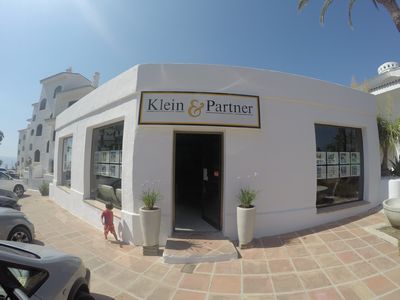 George T Klein, founder of Klein & Partner, has more than 30 years experience and expertise working in the property market of Marbella and its surrounds on Spain's renowned Costa del Sol.
The result is that, today, Klein & Partner is recognized as being one of the most established and reputable real-estate agencies in the area- a company that goes far beyond mere property sales and purchase, but provides a whole realm of additional support services. This specialized knowledge was acquired first-hand when Klein decided to cultivate his long-time love of architecture and construction by working with top international property developers.
In 1983, he joined John Green whose British company, City and St James's Investments Ltd has an impressive track record of luxury apartments and house conversions in selected areas throughout Europe. Klein gained his early experience working in all facets of Green's luxury El Ancón Sierra project in the Lomas de Marbella Club estate, ranging from construction management to sales and administration.
This was the early eighties when the Costa de Sol was experiencing an unprecedented boom in real estate, and foreign investment was flourishing. Upon the completion of this project 1985, Klein worked for Prince Ferdinand von Bismarck on the "Jardines Colgantes" the hanging gardens project, the first apartment complex within the prestigious Marbella Hill Club.
In 1986, Klein was promoted to Managing Director, which served to consolidate his comprehensive knowledge of the challenges, demands and details of all phases of the construction industry.Later in 1986 Klein also become Managing Director of Lafayette Estates Europe, the European marketing and sales company for the "Port Liberté" development in New York harbour, New Jersey.
George T. Klein established his own real estate company in 1989 but was forced to temporarily close two years later due to an unprecedented slump in the local property market. "Less than 50% of realtors survived this period of crisis - we were one of them".
During the interim period, Klein held a leading position at "Gilmar", dealing primarily in property re-sales and recognized as being among the most successful companies in this industry, at a time when close to 50%, of prime Marbella properties were on the market.Klein & Partner was established in 1997 with offices located on the prestigious Golden Mile, halfway between Marbella and Puerto Banús.Shortly after, the company was hired as sales and marketing strategists for Sauer International Investments which led to the successful launching of Kempinski Resort, Estepona in September 1999.The company policy is to provide a comprehensive service to prospective clients, including:
Investment Analysis
Market/Viability Study
Property Management
Sale & Resale of Property
Construction Management
A team of multi-lingual professionals guarantees the highest quality and continuity of service to clients at all times.
Klein & Partner have a select portfolio of properties, which range from modest, high quality apartments and business premises to luxury villas and rural properties.